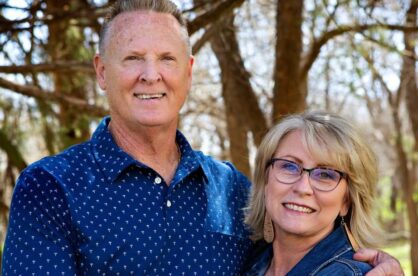 Being called to serve at Antioch has been the biggest blessing. It is amazing what God is doing out here in the country and Kelly and I are so privileged to be a part of it.
Pastor Jack and his wife Kelly have enjoyed more than 40 years of marriage, working side-by-side as a strong team in the ministry for the Lord. They have been blessed with three daughters who married three great men, and they adore their four beautiful grandchildren. Kelly has served the Lord in many capacities over the past decade as Administrative Assistant, Nursery Director and Sunday School teacher at Antioch. She currently serves as the Women's Ministry Director, Children's Ministry Director and Vacation Bible School Coordinator for Antioch.
Jack has served as Senior Pastor at Antioch Community Baptist Church since October 2010, and oversees the growth of the church through worship services, prayer groups, outreach programs, community service and spiritual leadership. His life is dedicated to inspiring others to love Christ and each other through genuine community. Pastor Jack completed his ministerial studies at Graceway Shepherd School of Ministry, where he received the Christian Leadership Award. He also holds a Master of Arts degree from Ottawa University. God called Pastor Jack to serve at Antioch in October 2010. Before obeying God's call, Pastor Jack had served as Assistant Pastor for six years, leading praise and worship and also teaching discipleship classes, Sunday School and various other ministries.
You can expect to hear the Word of God preached and taught. At Antioch we use the Bible. We believe that the Bible, God's Holy Word, is our cornerstone. We use our Bibles during every service and are happy to provide one for you. The music at Antioch is mostly traditional with a blend of contemporary praise songs. Our choir performs a variety of music, specials and cantatas, throughout the year. God's word is the very foundation of everything we do at Antioch, and making Disciples as Jesus commanded in Matthew 28:19, 20.
Listen to Our Recent Sermons
Sermons are a medium for the powerful and life-transforming Word of God. Access the audio of Pastor Jack's powerful weekly sermons.